My Tasty Bagel Lunch.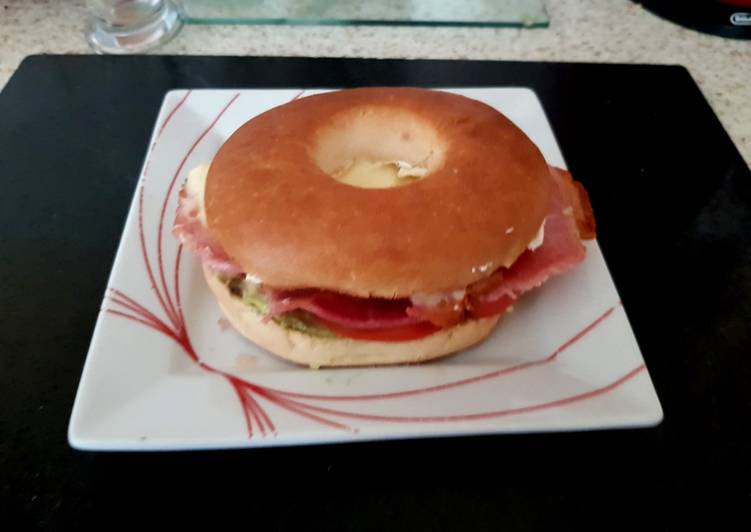 You can actually have My Tasty Bagel Lunch using 7 ingredients and 7 steps. This can be a prep you must do to cook it.
Ingredients for My Tasty Bagel Lunch
– You need 2 of plain Bagels.
– Prepare 1 of Avocado.
– You need 2 slices of Bacon.
– Prepare of Soft cheese spread.
– Prepare 2 of Poached Eggs.
– You need 1 of large Tomatoe sliced and then halved.
– You need of Hollindaise sauce (optional).
My Tasty Bagel Lunch step by step
Toast inside of the bagels.Grill the bacon..
Spread the Avocado on the bottom bagel then add the tomatoes on top..
Next add the soft cheese spread to the top bagel..
Add a little salt and pepper. Then when the bacon is cooked add the bacon on the tomatoes..
Boil some water and add the eggs to poach. Then add the egg on top of the bacon..
Lastly add hollindaise sauce on top of the egg. (Optional).
Then add the top and enjoy with a knife and fork..
At its best, cooking is surely an adventure. It's fun to try out different herbs and spices, in order to prepare your preferred foods in a very new way. Combining local, fresh foods with global recipes and cooking techniques is a great way to keep the cuisine intriguing and tasty. Especially for more My Tasty Bagel Lunch will be more interesting provided you can provide additional creations according to existing materials.
No you may debate that eating only locally grown foods could be a challenge. Of course, it will be hard to come by fresh fish and seafood if you live while in the desert, or unearth a source for locally churned butter if you reside in a fisherman's village. Just do not forget that perfection must not be the thing; even incremental changes in terms we feel and shop will help the planet. And, with the plethora of info on recipes and cooking available within the Web, putting a universal twist on local ingredients can put the journey last dining!
Source : Cookpad.com