AMIEs Special PANNA Cotta.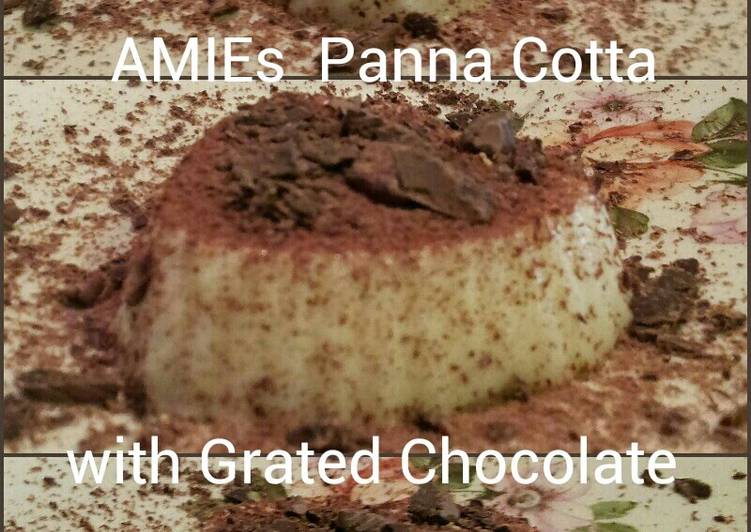 It is easy to cook AMIEs Special PANNA Cotta using 4 ingredients and 4 steps. Right here is the prep you want to do cooking it.
Ingredients of AMIEs Special PANNA Cotta
– You need 1 liter of heavy cream.
– It's 180 grams of sifted sugar.
– You need 4 of gelatine leaves.
– It's tsp of vanilla or lemon extract.
AMIEs Special PANNA Cotta step by step
Prepare cupcakes or ramekins. Lightly grease eight 125ml capacity ramekins with unflavoured oil..
Heat the cream and sugar together in a medium saucepan over medium heat and bring almost to the boiling point. Gently simmer over low heat for 3 minutes. Set aside..
Soak the gelatine leaves in a small bowl of water, about 10 minutes, until softened. Squeeze out the water and add leaves into the cream mixture. Put the cream into a fine mesh sieve and strain well..
Pour the cream into the prepared molds. Chill for 4-6 hours, or until done. Invert into a serving plate when ready to serve. Serve with seasonal berries, or amarene or grated chocolate..
At its best, cooking is usually an adventure. It's fun to understand different seasonings, and to prepare your selected foods in a very new way. Combining local, fresh foods with global recipes and putting them to use is a wonderful way to keep your cuisine intriguing, notable and tasty. Especially for even more AMIEs Special PANNA Cotta are often more interesting if you're able to provide additional creations prior to existing materials.
No you are likely to argue that eating only locally grown foods can be quite a challenge. In fact, it might be hard to come by fresh fish and seafood if you live inside desert, or unearth an origin for locally churned butter if you reside in a fisher's village. Just remember that perfection needn't be the goal; even incremental changes in how we feel and shop will assist the planet. And, with all the different info on recipes and cooking which can be found around the Web, putting an international twist on local ingredients can put the overall game the government financial aid dining!
Source : Cookpad.com