Very Jiggly Rich Panna Cotta.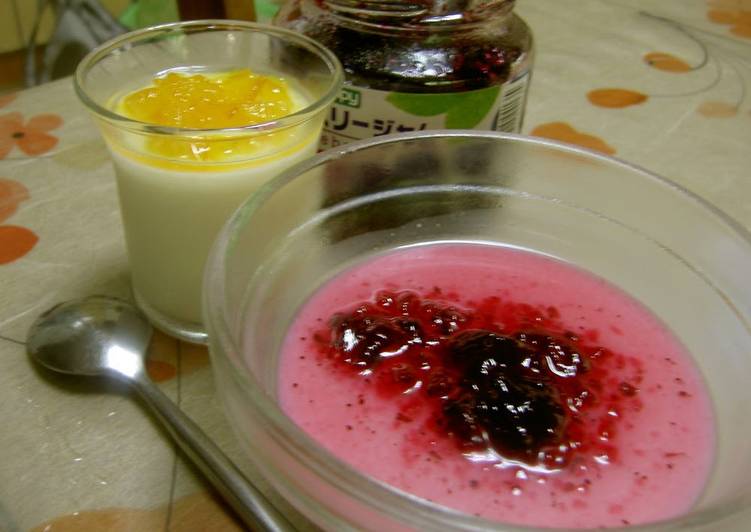 You could have Very Jiggly Rich Panna Cotta using 8 ingredients and 7 steps. This is actually the preparation you need to do to cook it.
Ingredients of Very Jiggly Rich Panna Cotta
– Prepare 200 ml of Milk.
– You need 60 grams of Sugar.
– You need 100 ml of Heavy cream.
– Prepare 5 grams of Gelatin powder.
– It's 30 ml of Boiling water (for the gelatin).
– Prepare of For the sauce.
– It's 2 tbsp of Jam (marmalade, strawberry, blueberry).
– Prepare 30 ml of Water.
Very Jiggly Rich Panna Cotta step by step
Sprinkle gelatin powder in hot water to dissolve..
Pour milk and sugar in the sauce pan and warm over medium heat. Shake the pot to dissolve the sugar..
Turn off the heat. Then, add the heavy cream and dissolved gelatin..
Combine slowly, chilling the pot over ice water..
Pour the Step 4 mixture into individual containers and chill in the fridge for 3-4 hours..
Meanwhile, make the sauce. Mix the jam and water in a bowl. Whisk to a smooth consistency..
Once the panna cotta has set, pour the sauce on top!.
At its best, cooking is surely an adventure. It's fun to understand different herbs and spices, and to prepare the best foods in the new way. Combining local, fresh foods with global recipes and putting them to use is the best way to keep the cuisine intriquing, notable and tasty. Especially for more Very Jiggly Rich Panna Cotta will be more interesting if you can provide additional creations according to existing materials.
No one would conisder that eating only locally grown foods generally is a challenge. All things considered, it might be hard to find fresh fish and seafood if you are living from the desert, or unearth a source for locally churned butter living in a fishing village. Just keep in mind that perfection must not be the target; even incremental changes in the way we feel and shop will conserve the planet. And, with the plethora of information regarding recipes and cooking you can do within the Web, putting a worldwide twist on local ingredients can put the experience back in dining!
Source : Cookpad.com